East Timor
History
East Timor gained independence from Indonesia on 20 May 2002 and became the first new nation of the century. But the road to independence was long and traumatic. At least 100,000 Timorese died as a result of Indonesia's 25-year occupation.  When Indonesia finally agreed in 1999 to let the Timorese choose between independence and local autonomy the results showed an overwhelming support for independence. Indonesian militia went on a rampage, murdering hundreds of people and reducing towns to ruins.    The civil unrest disrupted the lives of thousands of Timorese children forcing many families to flee their homes. Those displaced by the violence moved to hastily erected camps and shelters.  East Timor is one of Asia's poorest countries and will rely on outside help for many years. The infrastructure is poor and the country is prone to drought. Today more than 60 % of the population in East Timor are under the age of 18 and almost half of these are undernourished. 12% of children die by the age of five. Malaria, diarrhoea and respiratory infections are common and health risks are increased by contaminated drinking water, inadequate sanitation and poor nutrition.
Only one in five children attend secondary school. Literacy rates are low and domestic and gender based violence commonplace. 
Children on the Edge 2003 - 2014
Children on the Edge opened a Child and Community Centre in Viqueque, East Timor where employees of Wise Foundation and The Body Shop volunteered their time to facilitate the program as well as engage with the children and teachers. The Centres primary funding was donated by Wise Foundation and The Body Shop Australia.
The Child and Community Centre was one of the first centres of its kind in the country. Initially, the Centre offered Timorese children a place of stability and play, where they could heal from the trauma of war.
The Centre developed to offer health care, nutrition, education, after-school and youth activities, plus psychological and health advice for parents. Hundreds of children attend the Centre daily. It has not only become a place of safety and healing, but a place where children can learn to be children again.
Now, the Centre is entirely locally managed and receives funding from the local education department. It has intergrated into the local kindergarten system providing daily kindergarten for 3 - 6 year olds. It also offers a libraby and study space for older children and the community. The local church and community groups run a variety of children's youth activities in the afternoon.
Recognised by local people as the centre of the community for children and youth, the Centre has been vital for the re-establishment of a sense of "normalcy" in the community following the trauma of their violent struggle for independence. There has been an improvement in the social and life skills of the children and young people, as well as the promotion of activities such as art, culture, dancing, reading and sports to enhance creativity and confidence.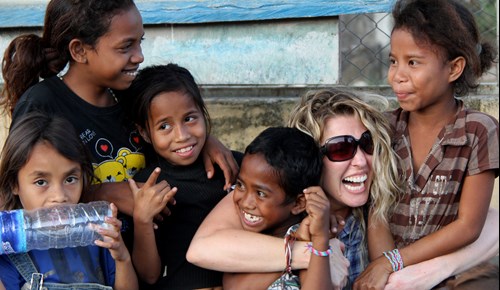 Dominican Sisters
Wise Foundation formed a relationship with the Dominican Sisters in 2010.
In 2002 the Dominican Sisters started, and continue to operate, an orphanage in Bidau, Dili (capital city). They also operate a kindergarten in Comoro, Dili, a kindergarten and farm in Hera (30mins East of Dili Centre) and land in Tibar (30mins West of Dili Centre).
Wise Foundation have continued to assist the Dominican Sisters in providing for the children in their care and our representatives are currently in the process of discussing future projects.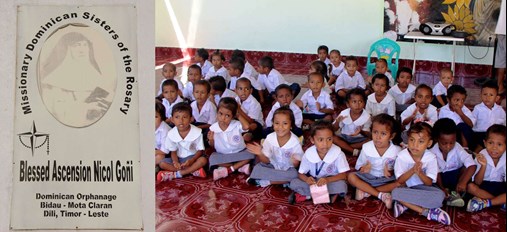 Work Boots for East Timor's Road Workers
In July 2014, Wise Foundation partnered with CARE and Chevron to distribute boots in East Timor to work teams and volunteers operating in association with CARE's "Our Roads, Our Future" Project.
These groups are working on the improvement of secondary roads and associated infrastructure in rural Bobonaro District of East Timor.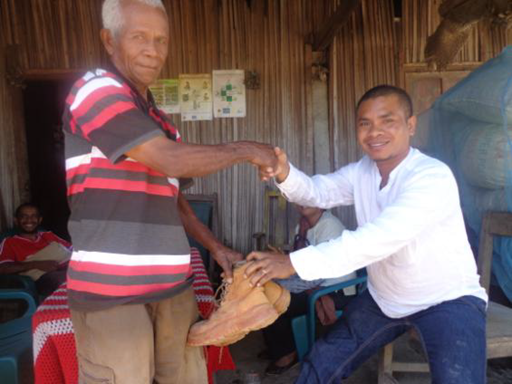 East Timor's Lafaek Magazine
Lafaek is the only educational publication in East Timor in the local language, Tetun, and covers topics like geography, language, health, culture and science, and issues such as peace, international affairs and women's rights.
CARE has been producing and distributing Lafaek magazines in East Timor since 2000, starting the publication as a Child Rights magazine after the 1999 Referendum for Independence.
Simplicio Barbosa (Lafaek Project Manager) and Octavio De Andrade (Lafaek Graphic Designer) travelled to Melbourne, Australia in December 2014 (pictured below with Graeme Wise). The purpose of this visit was to work with representatives from Wise Foundation, Affirm Press, CARE Australia and The Big Issue to strategise for the future of the Lafaek Magazines.